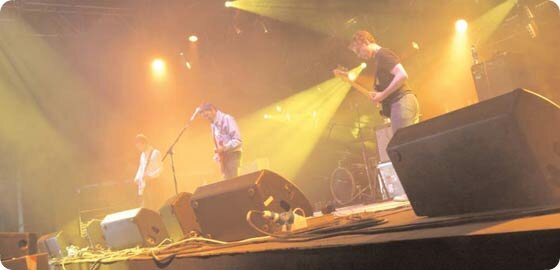 Bringing your event to Sunderland
Step 1
If you are proposing to stage an event in Sunderland you need to contact the Events Team for an Event Application Form at or telephone on 0191 514 8432.This outlines the key points of your proposed event: date, time, venue, type of event, anticipated audience numbers etc.
On receipt of the completed Event Application Form the Events Team will confirm that the date and venue are available and an Event Safety Plan will be forwarded to you for completion and submission to the Multi Agency Events group.
Step 2
The Event Organiser is responsible for the overall delivery of the event this includes public safety.
Step 3
Events on Council Owned land
If your event is going to be held on land owned by Sunderland City Council, then you need to apply to the Events Team within the Community and Cultural Services Directorate. This is where the event application process and administration is undertaken. If you are unsure about who owns the land then contact the Events Team and they will check this out for you.
Sunderland City Council has a number of pre-licensed event sites within the city. These are available for the public to hire and can suit a variety of events. Contact the Events Team for a current list and hire charges. Please note Sunderland City Council will vet and approve all events on City Council land for public safety.
Events on Private Land
If your event is to be held on privately owned land, then you may need to apply for a Temporary Events Notice to the Licensing Authority.
Step 4
The Licensing Act 2003 states that any event which includes;
regulated entertainment
sale of alcohol
sale of food after 11.00pm
requires a licence from the City Council Licensing Team who can be contacted at .To assist in this process the Events Team has licensed a number of designated events sites within the city for music and regulated entertainment. However, should your event include the sale of alcohol then a Temporary Events Notice (TEN) will be required from the Licensing Team.
NB: It is very important to meet the application deadlines for Temporary Events Notices. Please contact the Licensing Team for guidance and application forms.
Step 5
Event Safety Plans
An Event Safety Plan is a document that will contain all of the necessary information about the event you propose. It will be a working document, and copies should be given to all relevant stakeholders of the event, both internal and external. Access to this document should be easily available during the event.
We can supply you with blank Event Safety Plan templates that will guide you through the process.
Such areas to possibly be included will be for example:
Roles and responsibilities for the event management team
Contact details internal and external (e.g. Emergency Services)
A communications map showing who has responsibility for each area and how the various groups involved interact with one another
Designation of event control i.e. an established on-site point where the event management will coordinate the event from
Expected attendance throughout event duration and at peak periods
Crowd control systems detailed stewarding, capacity management etc.
Communication systems between key people, the audience/ crowd and emergency back up contingencies
Emergency evacuation plans
Emergency vehicle access/ egress routes
Fire safety systems and provision
First aid facilities
Toilet facilities
Lost children provision / child protection
Traffic management access and egress flow rates
Parking issues
Signage requirements for all aspects
Disabled access and facilities
Security cash handling
Public order issues / controls
A site map including entrances and exits, emergency access routes and rendezvous points, fire points, stewarding positions, toilets, crowd flow indicators, vehicle access routes, temporary structures etc.
A comprehensive risk assessment for the event
Step 6
Complex events with large-scale public attendance will be required to set up a formal Safety Advisory Group that will include various representatives from the City Council and Emergency Services. This group will meet prior to the event to discuss safety considerations and planning for the event. If needed details of how to go about this can be given.
Step 7
In certain circumstances it is a legal requirement to carry out a written Risk Assessment. It will be expected that any Event Safety Plan will be accompanied by a risk assessment of the event.
How to carry out a risk assessment
Identify the hazards concerned with the event
Evaluate who might be harmed and how by these hazards
Assess the level of risk and the severity of injury potentially caused by these hazards
Decide what controls you will put in place to avoid / remove these hazards or protect against them
Record your findings
Review your assessment and revise it if necessary
Step 8
Depending upon the size and popularity of your event you will need a certain number of identified personnel on the ground for the public to have access to.
The task of these 'Stewards' can vary tremendously during an event and you must have personnel whom can deal with all eventualities. Such duties can range from giving directions to the toilets and explaining where to buy the programmes to receiving lost children and managing the emergency evacuation of the site. Therefore staff must be given training and be made aware of all the safety aspects of the event and their specific role within each section.
Stewards can be members of your organisation, but you can hire professional stewards for a reasonable cost from stewarding companies. These 'professional' stewards have lots of experience and training with events and can alleviate the pressure on your staff allowing them to enjoy their day. If you are thinking of selling alcohol at your event or if some aspect of your event will need 'enhanced stewarding' then you will need to consider having Security Industry Authority (SIA) qualified personnel.
The Security Industry Authority is the organisation responsible for regulating the private security industry. It is an independent body reporting to the Home Secretary. Their mission is to help protect society by collaboratively developing and achieving high standards within the private security industry. One of the duties is the compulsory licensing of individuals working in specific sectors of the private security industry. A SIA licence currently covers manned guarding (which includes security guarding, door supervision, close protection, cash and valuables in transit, and public space surveillance using CCTV) as well as key holding and vehicle immobilising. Licensing ensures that private security operatives are 'fit and proper' persons who are properly trained and qualified to do their job.
Step 9
All events held on City Council land need to supply proof of Public Liability Insurance to a minimum of 5million. All sub-contractors, suppliers, participants and exhibitors should provide PLI to the same level.
Step 10
As part of the Event Safety Plan consideration should be given to the requirements of all sections of the community. Facilities should be provided, where applicable, for disabled visitors and young children.
Step 11
Food Safety
Food business operators must be able to demonstrate how they ensure food is prepared and processed safely. Since January 2006 European directive 852/2004 states that food businesses must have a documented food safety management system in place.
Food handlers must have received adequate training, instruction or supervision relevant to their food handling activities, to ensure food safety is not compromised.
Stalls must be kept clean and maintained in good repair and condition.
Stalls must have an adequate supply of hot and cold water to ensure good hygiene practices.
Stalls must have a supply of food grade cleaning chemicals and a supply of clean cleaning cloths.
Food handlers suffering from sickness / diarrhoea must not handle food stuffs and can only return to food handling duties 48 hours after their last symptom.
Further Information can be given by contacting the Food section of Environmental Health at .
Step 12
Sunderland City Council has been declared the 300th Fairtrade City. We encourage events to comply with the Fair Trade Code, by offering goods and services that adhere to the citys commitment to fairness.
Please contact Geraldine Smith on 0191 553 1614 for further information on how your event is involved with fair trade or email her at .
Step 13
Carbon neutral/a green event
Sunderland City Council will become a LOW CARBON COUNCIL by using energy more efficiently and by using and developing more of our own low-carbon energy sources.
Sunderlands Image Strategy commits the City Council and its partners to maintaining the citys quality environment for the benefit of residents now and in the future.
Please support our aims by making your event Carbon Neutral. For further information contact Jim Gillon from the Sustainability Team on 0191 553 1535 or email him at .
To help you consider the environmental impacts of your event as you go through the planning and organising progress, please use the greener events checklist by visiting www.oursouthwest.com/SusBus/greener-events-checklist.doc.
We would recommend that for large-scale events over 10,000 people an environmental impact study is carried out.
Step 14
Promoting your event to the public
Sunderland City Council has a variety of communication channels to reach both local audiences and regional visitors. These include the dedicated events website sunderlandevents.com and Switched On, the citys whats on guide that provides information for residents and visitors on where to go and what to see and do across the city.
A powerful communication tool, Switched On is distributed to every home in the city with the residents magazine Sunrise, as well as through local and regional distribution channels. In addition Sunderland has resident and visitor websites and great links with local media and partners.
For further information on how Sunderland City Council will help you with your event, contact the Events team by email at or by telephone on 0191 514 8418. They will be able to offer information on how to involve your event with the Sunderland Events programme and obtain the relevant literature.